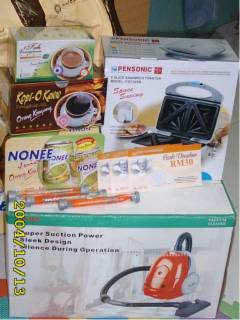 Our gifts...
We attended the EQ Corporate Night Dinner yesterday. The theme was "Back To School" and we were supposed to wear school attire. Not many does. Only the organiser. At this age, who can fit in the school uniform anymore...everyone has expanded. Either side ways or to the front...hehehe.

At the registration, we were asked to pick a coloured paper and write our names on it. I got yellow and David, green. Each of us were given a ribbon for the colour we picked. Tie somewhere lar on your body...

They begin the night with asking all to us to line-up 2 by 2. Then we sang our national anthem "NegaraKu". After that, speech by the so call proncipal of EQ Secondary School. Afterthat, they have a public canning demo by the so call principal. Then they split us up according to our colours. We were then told to seat at the tables with our respective colours during dinner and games time. Sop, sop, sop...separated from my hubby. Every group have to send 4 representative to go up the stage. They were given surprise goodies that was pom-pom strings. They will be the pom-pom girls and boys for each team. Then off to recess break...

The food was really like canteen food. More like hawker stall food. We were served Chicken/Duck Rice, Nasi Lemak (i did not eat that - sleepy...), fried beehoon, chicken soto, hee kiaw, nyonya laksa, otak-otak, popiah, fried banana, fried sweet potato, fried yam, abc, nyonya kuih, fruits, bread with ice-cream, air bandung, sirap, orange, sarsi, beer and red wine. I had the duck rice plus a piece of chicken, nyonya laksa & chicken soto. The rest I did not try as I have not appetite eating. Furthermore, lazy to Q-up.

After dinner, the games started. The games were, relay telematch, mini basket ball, poison ball, jigsaw & futsal. David participated in the relay telematch and jigsaw game. Me, just relax at my place, eat, drink, take snapshots, clap hands and be amused by them. No games for pregny woman...(i'm the only one thou) Overall my team, the yellow team won. The highlight was the presentation by the pom pom girls and boys. The winner was all boys pom pom team that dance to the tune of "I believe in Miracle" - Blue Monte. Thank God they did not strip. How ugly will that be!

Then the price giving...I was blessed with a vacuum cleaner and David with a Sandwich toaster & a hamper of Nonee juice, Tongkat Ali coffee and Green Tea. We also received 3 Cash Voucher from Chan Optometrist - RM30.00 each. Sufficient to change my lenses. Above all, Praise the Lord for His Blessings.